All About Chlamydia During Pregnancy
Chlamydia is a curable bacterial infection that can be transmitted genitally, orally, or in an anal form. It can also be passed from a woman to her baby during childbirth.
    1)  How can chlamydia affect my pregnancy ?
Women who have chlamydia during pregnancy tend to have higher rates of amniotic bag infection. They are at higher risk of premature delivery and premature rupture of membranes. Although rapid treatment can reduce the risk of these problems, some studies have associated chlamydia with an increased risk of miscarriage
An untreated infection also makes you more vulnerable to HIV and other STIs. It also increases the risk of uterine infection after delivery.
In addition, if you have a chlamydia infection during labour, you may spread the bacteria to your baby. In fact, almost half of  babies born vaginally,  to untreated infected mothers (and even some babies born by caesarean section) will contract the infection.
Between 25% and 50% of these babies will develop an eye infection (conjunctivitis) from a few days to a few weeks after birth. And 5% to 30% of babies who contract chlamydia during delivery develop pneumonia a few weeks to several months after birth.
Although these infections can be very serious, babies who are treated quickly with antibiotics are generally doing well. Of course, it is best to be treated before delivery to prevent your baby from getting infected.
    2)  What are the symptoms ?
If you practice sex through the anus, you may also have rectal inflammation. And if you have oral sex with an infected partner, your throat may become infected.
About 75% of infected women have no symptoms. If you have symptoms, they are likely to manifest about one to three weeks after exposure. These symptoms may include a burning sensation or discomfort when you urinate. Inflammation of the cervix and increased vaginal discharge or spots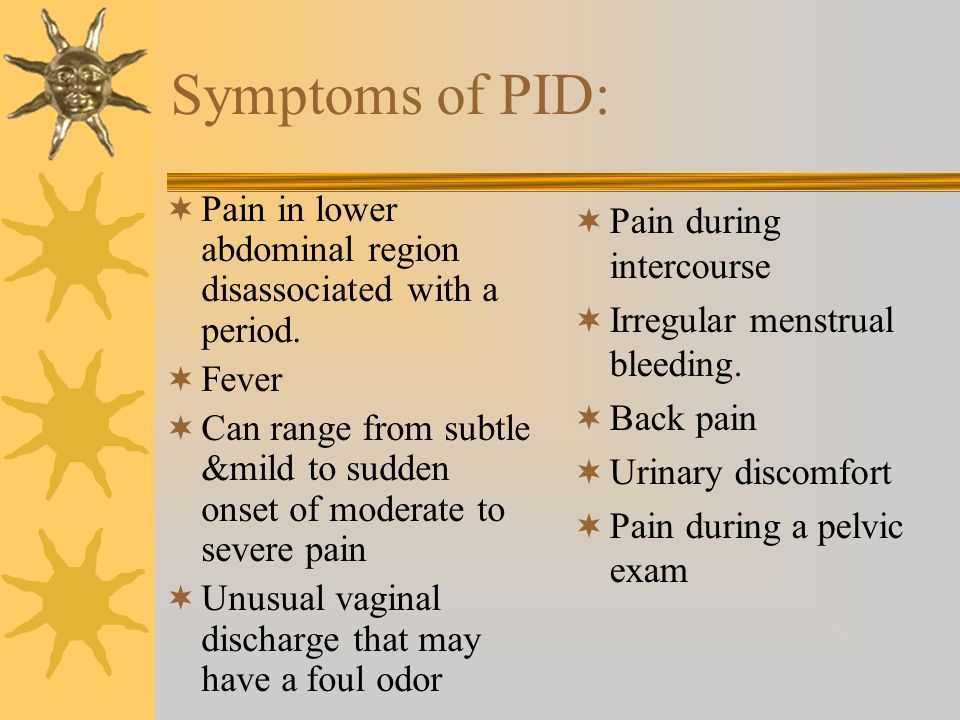 Before and after pregnancy, chlamydia can reach your cervix to infect your uterus or fallopian tubes. This, causing pelvic inflammatory disease (PID). You will have symptoms such as pain in the lower abdomen or in the back. It can also include pain during intercourse, vaginal bleeding, fever and nausea. PID can cause permanent damage to the fallopian tubes. It can lead to chronic pelvic pain and infertility, as well as an increased risk of ectopic pregnancy if you become pregnant.
About half of men with chlamydia develop symptoms such as discharge from the penis, burning or painful urination, tender or swollen testicles, and inflammation of the rectum.
It is important to let your doctor know if you or your partner have symptoms of chlamydia. Make sure you are both tested and treated if necessary.
    3)  How is chlamydia treated during pregnancy?
Chlamydia is treated with antibiotics safe during pregnancy. Your doctor may prescribe an antibiotic that you take in a single dose or that you take within a week. In most cases, a treatment cycle will cure the infection.
Your partner must be treated at the same time. Both of you must abstain from sex until one week after the end of the treatment so that you will not be re-infected.
    4)  How can I avoid having chlamydia during pregnancy?
Having sex only with a long-term partner. Otherwise, use latex condoms during intercourse and a dental dam during oral sex. This reduces the risk of getting chlamydia and some other STIs.
Again, if you have been exposed to chlamydia (or any other STI) during pregnancy, tell your doctor immediately so that you can be tested and treated if necessary.
Comments
comments